Waiting for a bus is often regarded as wasting time: in Umeå it may well mean standing on an icy platform in a -30°C snowstorm, continuously on the lookout for the bus, while trying to escape into a mobile phone. Even though with rapid bus frequencies in Umeå it may only be 5-10 minutes, it does not make taking the bus very attractive.
Yet, after a busy day of work many of us are longing for a moment to reflect, to return to ourselves, to feel our bodies and to change our state of being: We are need for nothing-time, to just be.
The Station of Being aims to cater to that: It frees travelers from the duty of looking out for the bus and instead gives them the time to just 'be'.
This is achieved by having the station reflect the status of the buses: A subtle spectacle of light and sounds in the roof is triggered whenever a bus is on approach. Every bus line has a distinct signature: buses going to an old glass factory sound glassy; when voices sound the bus goes to the city center.
Because of this sensitivity of the station, travelers no longer need to worry about picking up a bus: they can use the waiting time for themselves until they are politely being 'woken up'.
In the meantime, hanging pods provide comfortable leaning possibilities. These 'pods' also keep the wind away, providing comfort in averse conditions, whilst not needing any power. By turning the Pods around, one could either create various social settings, or enjoy the surrounding nature - a need which was clearly expressed by travelers in the design process and kept the designers away from making an enclosed space.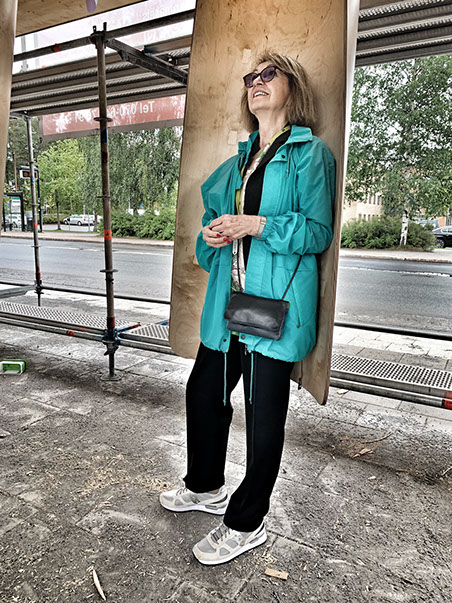 rotating pods are formed in such a way that they intrinsically turn out of the wind; providing comfortable, wind-free zones;
they also provide comfortable, rigid leaning supports - catering to the preference of users for leaning over sitting.
whereas outdoor seats in umeå have the problem of snow build-up, the pods stay snow-free
the pods can also be used by travelers to co-create various social settings
the station is snow-proof
the abundant snowfall in umeå asked for an open structure that minimises a build-up of snow
yet, to take away any remaining snow, the station is designed so that a standard snowplough can drive through the station.
this significantly eases the snow removal process compared to special operations required for traditional bus shelters, improving accessibility
a meditative spectacle of light and sound informs travelers of the status of buses, whereby the timber roof becomes a giant resonating instrument
every bus has its own signature for sound and lighting
the spectacle is visible from far away so it also
informs travelers who are walking to the station
sound design by ricky van broekhoven
the station is mainly constructed out of local timber, used for instance in the two roof slabs of cross-laminated timber, joint together under pre-tension to bear the high snowloads
the station uses a minimum of (renewable) energy