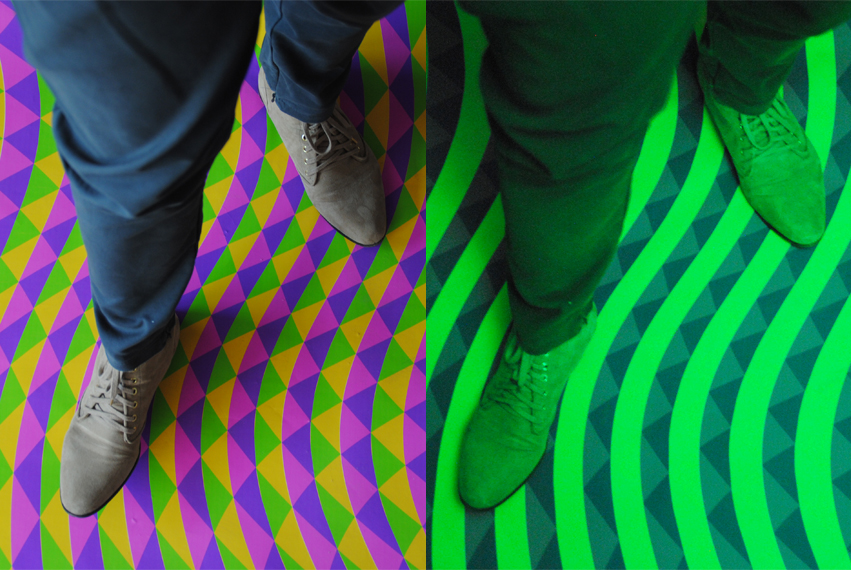 IRIS
REVEALING THE HIDDEN WORLD OF COLOURS
Colours do not exist. They exist only in our minds and are the result of complex processes of observation, comparison and adjustment.
On a carpet of 240 meters long we demonstrate that you cannot believe your eyes. By changing the colour of the lighting only, immense patterns come to life. See how totally different colours can suddenly appear as one. Experience how red is not so red at all and suddenly can look as if it is yellow. Discover why it is that butterflies and bees can see things we cannot see.
IRIS was developed in a four week masterclass of OPENLIGHT, the creative lab of the Intelligent Lighting Institute of the TU Eindhoven, with six students of Industrial Design at TU/e. During the masterclass they experimented with colours and light and perceived totally different colours could blend together. They combined the power of the colour of light and the colour of material by using the newly placed RGB lamp posts on the Torenallee in Strijp-S (Eindhoven) and a 240 meter long vinyl carpet to show many effects in an innovative and creative way.
EXPERIENCE IRIS
You can experience IRIS during GLOW NEXT 2013:
From November 9th until November 16th at the Torenallee in Strijp-S, Eindhoven
Opening hours:
Sunday - Thursday: 18.30 - 23.00
Friday - Saturday: 18.30 - 24.00
FOR THE PRESS
Students:
Josef Al Abdeli
Rik Bootsman
Jackie Hendrikx
Sjors Mouthaan
Bram Smis
Marjolein Wintermans
Staff:
Rombout Frieling
Jacob Alkema
ID education staff:
Saskia Bakker
Harm van Essen
THANKS TO:
LIGHT-S
Serge de Vries
Serge van den Berg
Hugo van der Hoeven
Gerrit Beking
Van Straaten
Berkleba
Suna Producties
Bram Sleegers
Robin Sleegers
Berit Wassenaar
Sotiri Wiersma